Practice Statement
(updated 02/2020)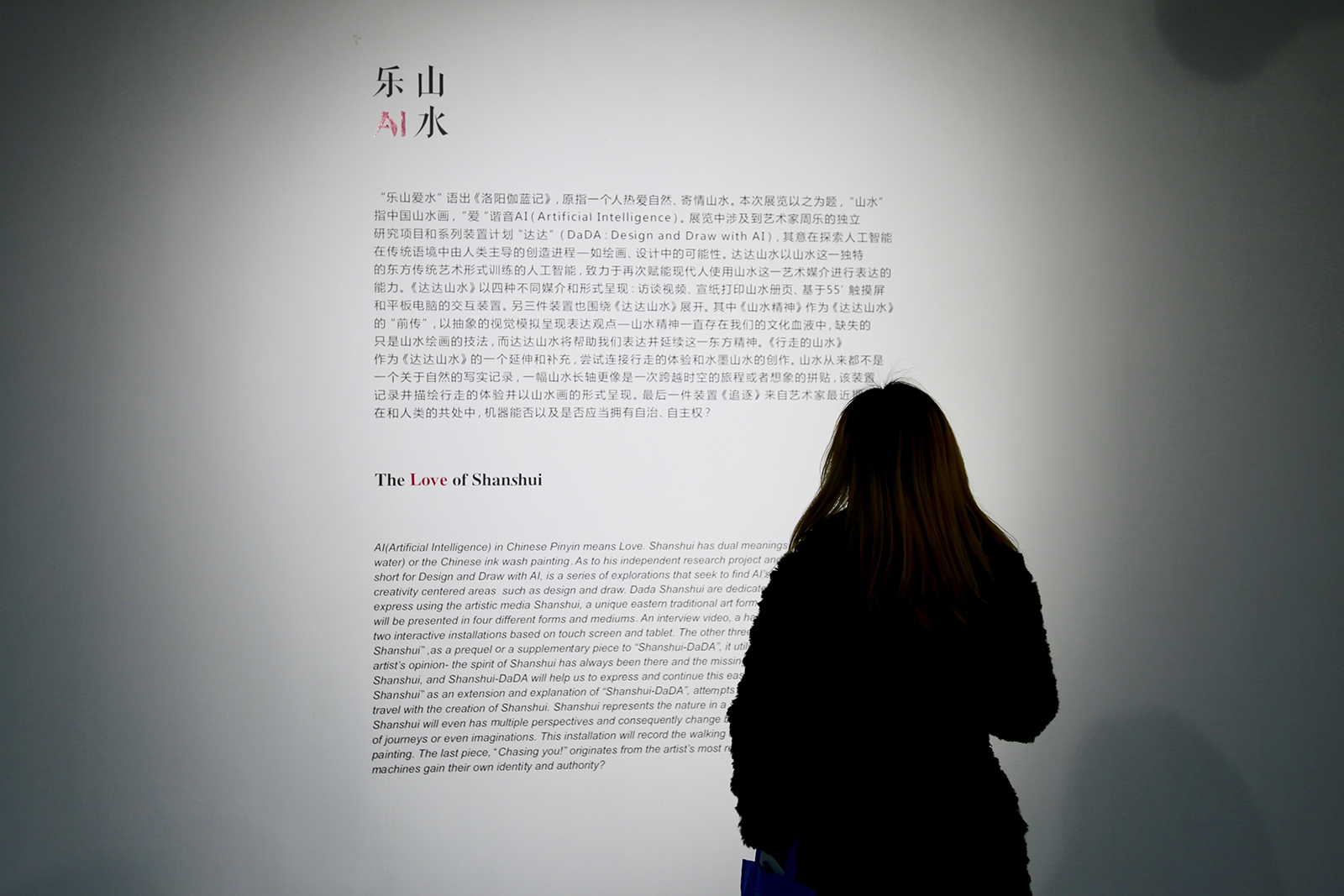 * photo credit to Shanghai Duolun Museum of Modern Art, first solo exhibition: The Love of Shanshui.

Creative Practices with Emerging Technology.
If I use one phrase to describe and summarise my interdisciplinary practices, it would be creative practices with emerging technology. I keep improving and enhancing my creative approach and artistic medium with the up-to-date technology advancements includes:

1. interactive technologies such as creative coding and physical computing;

2. generative algorithms; and

3. creative artificial intelligence.
Interactive.
My practices and projects vary in terms of the underlying technology and presenting format, but they mostly share one common feature - "interactive" and focus on human-machine interaction. With strong recent interests in cultural innovation and creative artificial intelligence, I've created a project series titled "Chinese New Literati, 2018 - ", this installations series includes both screen-based and physical interactive experiences, and all engage participants to interact with the system(s) to facilitate and even enhance their artistic expression. This one series generally aims at assisting users to create, enjoy, and appreciate Chinese traditional arts and culture. For instance:
1. "ShanshuiDaDA, 2018" is a screen-based installation, which users can doodle lines and ShanshuiDaDA (the AI) can help generate Chinese Shanshui painting based on the input. The project is widely exhibited around the world and highly evaluated.

2. "Known Beauty, 2019", and "Fusion Beauty, 2019" are WeChat mini-programs that are commissioned by top Chinese museums - Shanghai Museum and Hunan Museum. Those APPs can transfer the selfie of the user into the style of art crafts and emerge the result into the original artwork, so the user can search the hidden face and engage in the interaction with the arts and re-discover the culture. This project(s) won the first prize in the Tencent Next Idea Competition.

3. Other projects such as "ZICHI, 2018" and "The City of Love, 2019" are interactive music systems in which players will play with the AI and perform Chinese traditional music in real-time. "The City of Love" as a collaborative performance has been invited to show at different venues. "Walking through Shanshui, 2019" is a room-size interactive installation that can capture participants' movements and transfer/render it to Shanshui paintings.
Here is a video list demonstrate the Chinese New Literati Series. More other projects not included in this series are always also highly inclusive of interactive experiences and concepts. Projects like "Chasing You!,2018" and "The Spirit of Shanshui, 2019" are mostly machine vision powered, and camera-based (webcam, leap motion, Kinect, and etc.) interactive installation. The system will capture/track the participants' movements and interact with the audiences. 
Here are some quotation from critiques, coworkers, audiences, and others who interacted with the system(s), each comment is targetting at different specific piece but generally applies to the series:
1. Deep cultural heritage meets rapidly changing forms of art powered by technological advancements allows us to rediscover traditions and allow their essence to evolve through emerging technology while maintaining elements of both familiar and new.

2. This opens up a new form of expression by extending the form and finesse of the artist to the curiosity of the observer, in effect making the audience an integral part of the art itself via an interactive display.

3. This project helps us find the inner artist in ourselves and brings significant value by turning the observer into an artist for others to visualize their journey in real-time. We demonstrate that AI can bring art to the masses and help them express themselves seamlessly through technology.
Generative.
While earlier explorations of mine were more focusing on generative algorithms/art/design and fabrication, including:
1. the generative progress like how participants and the algorithms/machine interacts;

2. the presentation of the generated result with different digital fabrication methods.
During the explorations, for example, the "Interactive Geometries 2016/17" projects, I try to introduce the physical and body interaction from the audiences to the generative algorithms and create unique geometry design, and further present the generated output from participators in different formats, such as digitally fabricated - 3D printed and laser-cut - physical objects. In the "Flowing Time, 2015-" project (on-going), I designed the software for photographers and amateurs to take advantage of different algorithms to generate time-based photographs.
Create with Artificial Intelligence.
Interactive and Generative, are always the keywords and leading concept of my practices, so they are during the current AI era. The application of artificial intelligence as an artistic medium has re-shaped my art approach, and its significant influences should go further and apply to others' expressiveness. In order to examine and ease the social concerns and perhaps equally important, the excitements of artificial intelligence, I intend to work with AI in the name of art and promote the idea of "Create with Artificial Intelligence". Looking at AI/Machine Learning in the scope of interactive technology and as generative functions, I dedicate myself to promote creative AI as the interactive and generative systematic approach not only for creators but also amateurs. I make and exhibit interactive installations, and lead artist workshops and giving public speakings, aiming at encouraging and educating society to embrace creative AI and share a common belief — This definitely sounds empty but it's exactly why we need to work more on the topic and I want to use it to close up my current practice statements - In the era of Artificial Intelligence, everyone can create and be the artist!